Republished from SheKnows.ca.
Imagine a young girl, cowering in a corner of her school's cafeteria as groups of friends lunch and look on, amused by her obvious fear. The other girls are eating peanut butter sandwiches, something that she and many others like her are allergic to. The girls smear bits on their hands and then wave them at her as she retreats closer to the wall. The girls laugh, having received their desired effect, and leave the cafeteria.
In a recent survey published in Annals of Allergy, Asthma, and Immunology, 25 per cent of children report they have been bullied because of a food allergy, with the percentage being as high as 50 per cent among students in grades six through 10.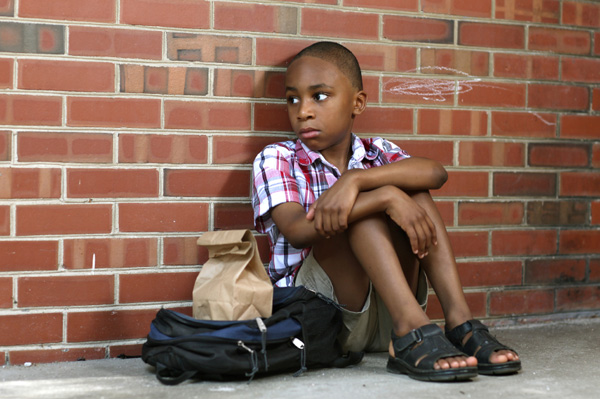 What is bullying?
Bullying, a hot-button topic for many, is defined as repeated unwanted and aggressive behaviour where there is a perceived or real imbalance of power, such as an older or bigger student toward a younger or smaller student, or an adult and child. Bullying can take on many forms, such as verbal, physical, social and cyber-bullying. In addition to the physical and mental health issues associated with bullying, food allergy bullying has the added danger of life-threatening injuries and the need for immediate medical intervention.
According to the survey, 79 per cent of respondents stated that they were being bullied because of their allergy, while others were bullied because they carry medication. Students also face the fear of lurking allergens, sometimes purposely hidden around the classroom to inflict the most harm. Some students have anxiety and stress disorders stemming from allergic reactions at school, while others deal with compulsive behaviours because of their fear of allergens lurking on doorknobs, backpacks and even on their friends' hands.
What are schools doing about it?
Schools are becoming more aware of the situation and are planning for the prevention of allergic reactions. School staff and personnel should know how to use allergy medication, when to administer it and where it is kept. In addition, many schools are updating their policies regarding snack sharing and maintaining allergen-free zones, and even birthday and other celebration treats are more commonly being replaced by apple slices and other healthy snacks.
In addition to the steps schools are now taking, bullying prevention should remain a priority. Evidence suggests that peer-to-peer interventions work best, rather than adult-driven programs. Students being on board and creating their own anti-bullying strategies is key to preventing bullying and harassment, and while that allows children and youth to be responsible for both the identification and intervention of bullying, it also creates ownership and a desire to see their interventions succeed.
What can parents do?
"25 per cent of children report they have been bullied because of a food allergy."
It is essential that adults understand and believe that bullying is not a normal part of growing up, nor is it a milestone every child and youth must face on their own. Bullying can cause lifelong mental health issues for both the child being bullied and the student engaging in bullying behaviours. It also has the potential to lead those exhibiting bullying behaviours into the justice system. Children and youth need consistent messaging when it comes to bullying. Students cannot be told they have the right to defend themselves, including hitting back, by parents and guardians when the school is enforcing a strict hands-off policy. Instead, students should be encouraged to be assertive when it comes to bullying and to show with their bodies and voices that bullying is not OK and will not be tolerated. Children especially should be taught the difference between asking an adult for help when someone is in trouble and tattle telling.
Parents and guardians are the best advocates for their children and should have a clear line of communication with their child's school. Teachers and principals are the first line of defence against bullying and harassment in schools and should take bullying situations seriously. Schools should have policies in place to deal with bullying as well as protocols for handling food allergies in schools. If your child is experiencing bullying at school, find out from the principal what steps will be taken to ensure your child's safety. Always consider the mental health of your child, but remain calm in any interaction with the school; teachers and other school staff are your allies and want your child to be safe and to succeed as well.
Education is key
Educating our children about food allergies and bullying is essential to ensure a healthy and safe environment for all students in schools. Students with allergies can be seen as ambassadors, teaching their classmates about their allergies and medications. Keeping information out in the open and accessible allows for an environment where students are knowledgeable and aware of their own community.
Written by Alyssa Keel, M.S.W., R.S.W. Alyssa is the manager of curriculum and development for the Canadian Safe School Network. She has a number of years' experience working with children, youth and adults in a variety of settings, including elementary and high schools. Alyssa is passionate about mental health issues and believes strongly that a successful school career can have long-lasting effects on children and youth.